About the system
The innovative Russian Shunting
Automatic Cab Signalling system
ensures the safety of shunting and hump operations in mainline and industrial railway stations and yards.
transmits route jobs and allowed speed limits, including stop commands, to engines via radio.
prevents SPAD and speed limit violations.
supervises the movements and locations of engines using satellite navigation with results displayed on graphical screen and trips recorded in text and graphical form.
is interfaced and communicates with all types of electrical and marshaling interlocking systems, station-level information and planning systems, computer-based onboard control systems.
is deployed in the following stations: Solnechnaya, Avtovo, Orekhovo-Zuevo, Sochi, Adler, Imeretinsky Resort, Cheliabinsk Glavny, Bekasovo Sortirovochnoye, Luzhskaya (shunting system, Northern, Oil and Southern yards).
Aims and goals
MALS ensures the safety of wagon fleet and motive power and, most importantly, prevents casualties caused by human error.
Safety
MALS helps prevent traffic safety violations caused by the following factors:

non-observance of signals;
violation of voice communication rules;
movement without foreman's command;
poor brake control;
poor knowledge of the station's technological instructions;
sleeping in locomotive;
poor signal visibility;
speed limit violation;
erroneous perception of adjacent track's signal as own track's signal;
foreman's command to driver containing a wrong locomotive identification number;
damage to wagons during coupling due to shunting master's error or misperception of command by driver;
erroneous setting of movement direction.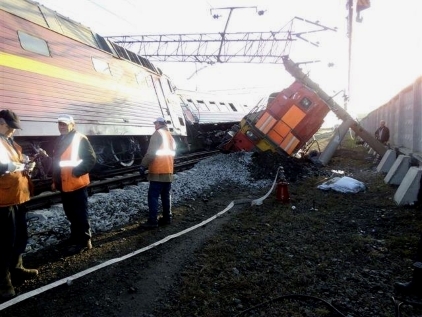 Poor knowledge of station instructions.
Perception of adjacent track's clear aspect of exit signal as own track's signal.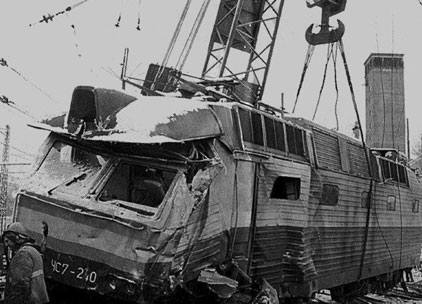 Violation of voice communication rules during shunting operations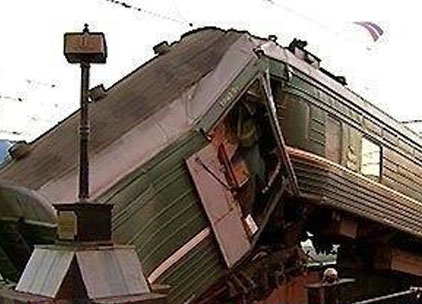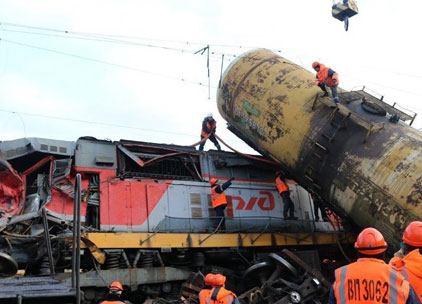 Train crew falling asleep


Dynamic modelling and prevention of accidents using MALS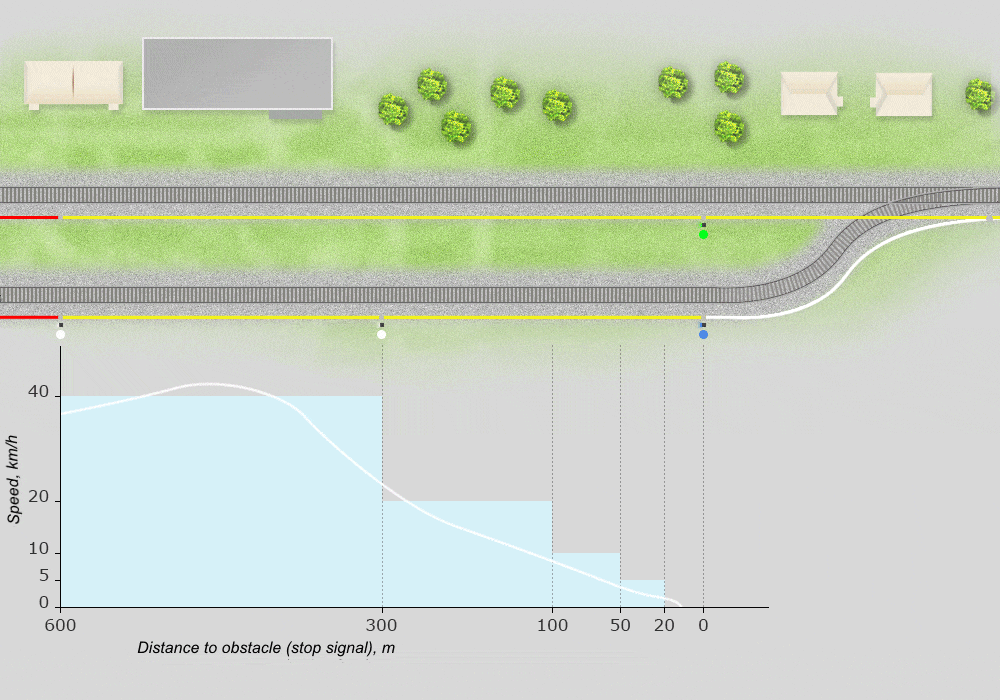 Monitoring
Supervises the locations and movements of locomotives by means of satellite navigation and station-based automation devices with graphical display of information.
Identifies and visually indicates operations and speed violations, threats to traffic safety, violations of instructions and norms. Enables transmission of current information, graphical and text records to remote terminals via wire and wireless channels.
MALS continuously (24/7) archives the status of interlocking facilities and locomotives. Data is recorded every second and can be later used for reviewing process-specific situations, as well as in analytics. MALS contains a set of utilities for archive viewing and provides a number of tools for visual representation of data that help to make fast and efficient evaluation of locomotive operations in its dynamics, to pin down discipline violations, to provide required recommendations.
Example of speed gauge reflecting the implementation of a shunting route:
Speed limit violation
Warning
Braking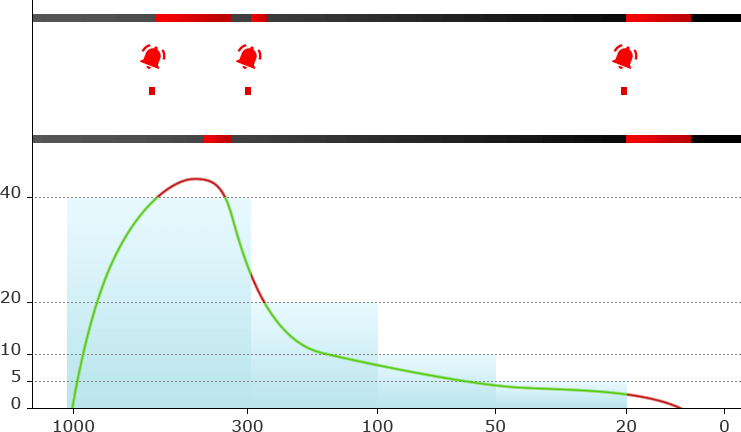 Distance to obstacle (stop signal, single-ended siding, etc.), m
Allowed speed range
Current speed:
normal
excess
Analytics
Based on archive data, MALS generates a statistical report on the operation of locomotives equipped with the system's devices, that contains indicators that allow evaluating the efficiency of shunting engine operation, identifying bottlenecks in the station and hump operation process, pinning down process discipline violations by train crew members. The significant advantage of the MALS statistics is the fully automated acquisition of information that ensures high integrity of locomotive operation indicators.
Economic efficiency
The economic effect of MALS-generated statistics analysis can be expressed in the optimization of the fleet of shunting engines operated in a station. Information on the duration of hump operations (in stations equipped with a shunting hump) can be used in the improvement of the operating procedures aimed at reducing downtime.
The system's economic efficiency is also ensured by combining shunting and train operations in the same part of the station with an increased level of traffic safety.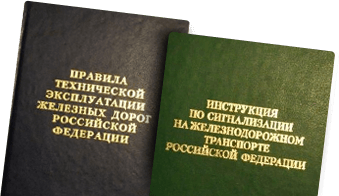 "In railway stations equipped with Shunting Automatic Cab Signalling (MALS), before reception and dispatching of trains it is allowed not to interrupt shunting operations in the tracks, from which it is impossible to prevent the exit of rolling stock into a train route by setting switches into safety position. The locomotive performing shunting operations must have the onboard shunting automatic cab signalling in working order. The list of such railway stations is to be defined by the infrastructure owner, private railway tracks owner." (Item 1, Annex no. 9 to the Guidelines for train traffic and shunting operations in railway transportation)
Unmanned technologies
MALS provides a wide range of opportunities for application and further development of unmanned technologies of railway rolling stock control during shunting operations in stations, while completely observing traffic safety requirements.
The driver can set the speed that will be automatically implemented by the locomotive using the MALS facilities. The driver's function in this case comes down to observing the progress of operations.
In the driverless mode all the parameters required for the performance of shunting operations are set at the station duty officer's workstation, and the locomotive automatically performs the required operation (approach to trainset, coupling with trainset, humping, detaching).
GLONASS/GPS
automatic positioning of locomotives
ONBOARD EQUIPMENT and driver's workstation
locomotive supervision, control
RADIO TOWER
radio communication with locomotive
ONBOARD RADIO STATION
data exchange with station-based devices
CBI/IXL
acquisition of information from trackside sensors
STATION DUTY OFFICER'S WORKSTATION
monitoring, supervision and control of all locomotives in the station
MALS station-based control computer
central server of locomotive control
System functions
Delivery of commands to stop the locomotive before restrictive signals;
Supervision of shunting engines' speed as per the station's instructions, including during distribution of wagons from the hump;
Supervision of shunting engines' location and movement along the tracks and in the yards of the station using satellite navigation;
Target backing a trainset into dead-end siding;
Recording and logging of the operation of onboard, station-based devices and radio communication facilities;
Fully automated generation of statistical records of locomotive operating performance (with no manual input).